Our 2023 Timetable!
In 2023 we will be changing our timetable to help service the needs our our community as well as providing one full day of 7.5 hours per week for the 3 year old Pre-Kindergarten program.
In the spirit of reconciliation and embedding Aboriginal perspectives into our kindergarten environment, we undertook group name changes in 2017:
Bunjil – the creation Eagle
Waa – the trickster Crow
Dantum – the wise parrot.
2023 Timetable
Kindergarten
4 – 6 Year Olds
Waa Group

Monday: 8:30am – 4:00pm (7.5 hours)




Tuesday: 8:30am – 4:00pm (7.5 hours)

Bunjil Group

Thursday: 8:30am – 4:00pm (7.5 hours)
Friday: 8:30am – 4:00pm (7.5 hours)
Pre Kindergarten
3 – 4 Year Olds
| | |
| --- | --- |
| Dantum Group | Wednesday: 8:30am – 4:00pm (7.5 hours) |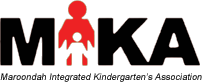 All of our enrolments for for both Pre Kindergarten and Kindergarten are now being processed through the Maroondah Integrated Kindergarten Association (MIKA). For enrolments and enrolment enqiries please visit the MIKA website.
Paper copies of the enrolment form for you to print and fill out are below. These are to be posted to MIKA
3YO 2023 Parent Information and Application
4YO 2023 Parent Information and Application
2022 Fees
Pre-Kindergarten – $160 per term
Kindergarten – $430 per term
Maintenance Fee – $50
2023 Fees
Kindergarten will be FREE in 2023.
The Best Start, Best Life reform will help all Victorian children dream even bigger through increased access to quality early childhood education and care. A critical part of the reform is Free Kinder, which will support access to two years of high-quality kindergarten programs for all Victorian children by making this free.
Free Kinder will be available for both 3 and 4-year-old kindergarten programs in 2023.
Child eligibility:
All children enrolled in a funded kindergarten program at a participating service are eligible for Free Kinder from 2023.
In line with existing policies for per capita funding, children must only receive Free Kinder funding at one service. If a child attends more than one service that offers a funded kindergarten program (e.g. a sessional service for some days and a long day care service on other days), the family must nominate which service they will receive their funded kindergarten program and therefore their Free Kinder funding.
Early Start Kindergarten
Early Start Kindergarten gives eligible children 15 hours of free or low-cost kindergarten a week for two years before starting school.
To be eligible, your child must be three by 30 April in the year they start kindergarten, and:
is from a refugee or asylum seeker background, or
identify as Aboriginal or Torres Strait Islander, or
your family has had contact with child protection.
Children can also access free or low cost Four-Year-Old Kindergarten through the Early Start Kindergarten Extension Grant.
St. John's Banking Details
Account Name: St. John's Kindergarten
BSB: 033 044
Account No: 106617